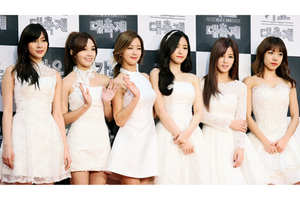 Apink
When did Apink debut ?
Apink debuted on April 19, 2011 with their mini album "Seven Springs of Apink" and single "I Don't Know" under Plan A Entertainment.
What does Apink mean ?
The "A" in their name comes from their company, "A Plan", while pink is part of their name as it is the color that represents innocence, and that was the concept they wanted to make known.
What is Apink fandom (fans) called ?
They call their fans "Panda" because it is the combination of the group's name and the Korean word for "fan", "paen".
Why is Apink so famous ?
Apink has been in the k-pop world for many years, and because of this, the group has been evolving and changing a lot during this time, which is why they are so popular in the k-pop industry and in Asia, in addition to their many songs and recognitions. Apink has managed to become well known even though they come from a small company and they are the only group in it.
What is your most viewed video ?
His most viewed video is "Mr. Chu", with more than 78 million views on YouTube.
How important is Panda to Apink ?
For the 11 years that Apink has been a group, they have been able to get ahead for a long time, thanks to Panda, and have managed to win several awards, which are Seoul Music Awards Bonsang Awards, Golden Disk Awards: Song Division Award, Mnet Asian Music Award for Best New Female Artist, Golden Disk Awards: Album Division Award, Golden Disc Award for Best Group, Golden Disk Award for Best New Artist - Album and Mnet Asian Music Award for Best Overall Female Group. Apink has managed to get a lot of support and love from Panda during their time as a group, and will continue to do so for a long time to come.


Lightstick
Its lightstick and glow are pink, just like its main concept and name. It has the shape of a panda, which is a very good idea and cute, since that is the name of its fandom. Their lightstick seems to me to be one of the cutest in k-pop, since it is not only their main color, but the fact that it has the shape of their fandom's name is not only creative, but it is also specially addressed to their fans, and I usually really like lightsticks that not only represent the group, but also specially represent their fans.
Apink concerts with waves of beautiful lighsticks
Who are the members of Apink ?
The group is composed of Son Na Eun, Park Cho-rong, Yoon Bo Mi, Jung Hye-rim, Oh Ha Young, Hong Yoo-kyung and Kim Nam Joo, better known as Naeun, Chorong, Bomi, Eunji, Hayoung, Hong Yoo-kyung and Namjoo.
Naeun
Full name: Son Na Eun
Date of birth: February 10, 1994
Age: 28 years old
Height: 1.68m
Position: Vocalist and dancer
Place of birth: Seoul, South Korea
Zodiac sign: Aquarius
Chrong
Full name: Park Cho-rong
Date of birth: March 3, 1991
Age: 30 years old
Height: 1.63m
Position: Leader, vocalist, rapper, dancer
Place of birth: Chungcheongbuk-do, South Korea
Zodiac sign: Pisces
Bomi
Full name: Yoon Bo Mi
Date of birth: August 13, 1993
Age: 28 years old
Height: 1.65m
Position: Vocalist, rapper and dancer
Place of birth: Suwon, South Korea
Zodiac sign: Leo
Eunji
Full name: Jung Hye-rim
Date of birth: August 18, 1993
Age: 28 years old
Height: 1.63m
Position: Vocalist and dancer
Place of birth: Busan, South Korea
Zodiac sign: Leo
Hayoung
Full name: Oh Ha Young
Date of birth: July 19, 1996
Age: 25 years old
Height: 1.69m
Position: Vocalist, dancer and maknae
Place of birth: Hwagok-dong, Seoul, South Korea
Zodiac sign: Cancer
Hong Yoo-kyung
Full name: Hong Yoo Kyung
Date of birth: September 22, 1994
Age: 27 years old
Height: 1.67m
Position: Vocalist, rapper and dancer
Place of birth: South Korea
Zodiac sign: Virgo
Namjoo
Full name: Kim Nam Joo
Date of birth: April 15, 1995
Age: 26 years old
Height: 1.65m
Position: Vocalist, rapper and dancer
Place of birth: Seocho-dong, Seoul, South Korea
Zodiac sign: Aries
---