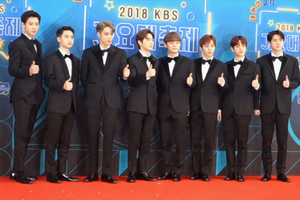 EXO
When did EXO debut ?
EXO debuted on April 8, 2012, performing in two sub-units, EXO-M, performing in Mandarin, and EXO-K, performing in Korean, with their single "Mama" under S.M.entertainment.
What does EXO mean ?
Their name comes from EXO Planet, since EXO is the abbreviation for "Extra Solar", so their name means that they come from an extra solar planet, that is, outside the solar system.
What is the EXO fandom called ?
They call their fans "EXO-L", because the L stands for "Love". The L represents the love that EXO-L gives to the two subunits, since the L is in the middle of the M and the K in the alphabet.
Why is EXO so famous ?
EXO has gained a lot of popularity in Asia in all their time, due to their great experience of these 9 years as a group and also because it is a group that has focused on winning over the Asian public, so they are very famous there.
What is your most viewed video ?
His most viewed video is "Love Shot," with over 421 million views on YouTube.
How important is EXO-L to EXO ? 
Thanks to EXO-L, EXO has achieved success throughout its career, is one of the most recognized K-pop groups and has won numerous awards, including Seoul Music Awards: Daesang Award, Mnet Asian Music Award for Best Male Group, Golden Disk Award for Best New Artist - Album, Seoul Music Awards Fandom School Award, Seoul Music Awards iQiyi Popularity Award, etc.

EXO concert with waves of beautiful lighsticks
Who are the members of EXO ?
The group currently consists of Kim Jong-in, Do Kyung-soo, Byun Baek-hyun, Park Chan-yeol, Kim Jong-dae, Oh Se-hun, Kim Jun-myeon, Zhang Yixing and Kim Min-seok better known as Kai, D.O., Baekhyung, ChanYeol, Chen, Sehun, Suho, Lay and Xiumin.
Kai
Full name: Kim Jong In
Date of birth: January 14, 1994
Age: 28 years old
Height: 1.82m
Position: Vocalist, rapper and dancer
Place of birth: Seoul, South Korea
Zodiac sign: Capricorn
D.O.
Full name: Do Kyung Soo
Date of birth: January 12, 1993
Age: 29 years old
Height: 1.73m
Position: Vocalist and dancer
Place of birth: Goyang, Gyeonggi Province, South Korea
Zodiac sign: Capricorn
Baekhyung
Full name: Byun Baek Hyun
Date of birth: May 6, 1992
Age: 29 years old
Height: 1.74m
Position: Vocalist and dancer
Place of birth: Bucheon, Gyeonggi Province, South Korea
Zodiac sign: Taurus
ChanYeol
Full name: Park Chan Yeol
Date of birth: November 27, 1992
Age: 29 years old
Height: 1.86m
Position: Vocalist, rapper and dancer
Place of birth: Seoul, South Korea
Zodiac sign: Sagittarius
Chen
Full name: Kim Jong Dae
Date of birth: September 21, 1992
Age: 29 years old
Height: 1.73m
Position: Vocalist and dancer
Place of birth: Daejeon, South Korea
Zodiac sign: Virgo
Sehun
Full name: Oh Se Hun
Date of birth: April 12, 1994
Age: 27 years old
Height: 1.83m
Position: Rapper, dancer and maknae
Place of birth: Seoul, South Korea
Zodiac sign: Aries
Suho
Full name: Kim Jun Myeon
Date of birth: May 22, 1991
Age: 30 years old
Height: 1.73m
Position: Leader, vocalist and dancer
Place of birth: Seoul, South Korea
Zodiac sign: Gemini
Lay
Full name: Zhāng Yì Xìng
Date of birth: October 7, 1991
Age: 30 years old
Height: 1.77m
Position: Vocalist, rapper and dancer
Place of birth: Changsha, Hunan, China
Zodiac sign: Libra

Xiumin
Full name: Kim Min Seok
Date of birth: March 26, 1990
Age: 31 years old
Height: 1.73m
Position: Vocalist, rapper and dancer
Birthplace: Gyeonggi-do, Guri, Korea
Zodiac sign: Aries
---