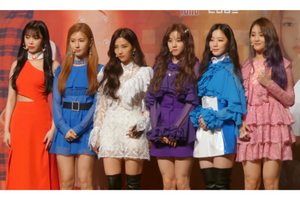 (G)I-DLE
When did (G)I-DLE debut ?
(G)I-DLE debuted on May 2, 2018, with its mini-album "I Am" and its title track "LATATA" under Cube Entertainment.
What does (G)I-DLE mean ?
The "I" in the group comes from the "i" in "members", the "G" in "girl", and the "DLE" comes from the Korean word "deul", which serves to make objects plural (girls).
What is the (G)I-DLE fandom called ?
They call their fans "Neverland", referring to Peter Pan's place, where people never change and stay as children, as (G)I-DLE will live in Neverland forever.
Why is (G)I-DLE so famous ?
Although (G)I-DLE has been around for a short time compared to other k-pop groups, it has become very popular with many of its songs and receiving awards. (G)I-DLE is a very famous group in the fourth generation, and one of the most popular in the fourth generation.
What is your most viewed video ?
(G)I-DLE's most viewed video is "LATATA", with over 164 million views on YouTube. Next is "Oh my god", with more than 164 million views on YouTube.
How important is Neverland to (G)I-DLE ?
(G)I-DLE has achieved great popularity and become one of the best k-pop groups of the fourth generation. They have also become more known for their Golden Disk Award Rookie Artist Award, Golden Disk Award Best Performance Award, Mnet Asian Music Award: Best of Next Award (Mnet Asian) and Seoul Music Awards Best Performance Award, which were made possible by Neverland.
Songs of (G)I-DLE
Currently (G)I-DLE has around 32 songs with which they have gained great recognition. The group's best known songs are HWAA, Oh My God, Lion, LATATA, Dumdi Dumdi, HANN (Alone), The Badddest and Señorita.
(G)I-DLE Albums
They debuted with the first mini album I Am on May 2, 2018 of 5 songs and the following day it was physically released for sale. I Made is their second mini album, which was released on February 26, 2019 with the lead single Señorita.
On April 6, 2020 the group returns with the third mini album I Trust. The following year on January 11 is the release of I Burn, their fourth mini album which features 6 songs.
Japanese mini albums
The girls of (G)I-DLE made their debut in Japan with the mini album Latata, with the same name as the title track Latata (Japanese ver.) on August 31, 2019. Their second Japanese mini album was released under the name Oh My God on August 26, 2020.
Who are the members of (G)I-DLE ?
The group used to consist of Seo Soo-jin, Yeh Shuhua, Sòng Yǔqí, Cho Mi-yeon, Jeon So-yeon and Nicha Yontararak, better known as Soojin, Shuhua, Yuqi, Miyeon, Soyeon and Minnie, but on August 14 Cube Entertainment announced Soojin's official departure after being on hiatus since March due to several controversies about previously bullying in school.
Soojin (ex-integrante)
Full name: Seo Soo Jin
Date of birth: March 9, 1998
Age: 23 years old
Height: 1.64m
Position: Vocalist and dancer
Place of birth: Bongdam, Hwaseong, South Korea
Zodiac sign: Pisces
Shuhua
Full name: Yeh Shu Hua
Date of birth: January 6, 2000
Age: 22 years old
Height: 1.61m
Position: Vocalist, dancer and maknae
Place of birth: Taoyuan, Taiwan
Zodiac Sign: Capricorn
Yuqi
Full name: Song Yu Qi
Date of birth: September 23, 1999
Age: 22 years old
Height: 1.62m
Position: Vocalist and dancer
Place of birth: Beijing, China
Zodiac sign: Libra
Miyeon
Full name: Cho Mi Yeon
Date of birth: January 31, 1997
Age: 25 years old
Height: 1.63m
Position: Vocalist and dancer
Place of birth: Incheon, South Korea
Zodiac sign: Aquarius
Soyeon
Full name: Jeon So Yeon
Date of birth: August 26, 1998
Age: 23 years old
Height: 1.57m
Position: Leader, rapper, vocalist and dancer
Place of birth: Seoul, South Korea
Zodiac sign: Virgo
Minnie
Full name: Nicha Yontararak
Date of birth: October 23, 1997
Age: 24 years old
Height: 1.64m
Position: Vocalist and dancer
Place of birth: Bangkok, Thailand
Zodiac sign: Scorpio
---