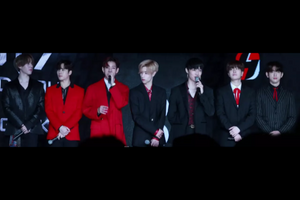 Got7
When did Got7 debut ?
Got7 debuted on January 16, 2014 with their song "Girls Girls Girls Girls". They debuted under JYP Entertainment, but on January 16, 2021, the boys decided to no longer renew their contracts with JYP Entertainment so they could each sign with other agencies, but continue as a group.
What does Got7 mean ?
Their name is due to the fact that the seven of them will be together forever, and they are very lucky because of it.
What is the Got7 fandom (fans) called ?
They call their fans "IGot7", because that in Korean sounds like "AhGaSe", which means "Baby Bird" or "Little Bird", because that's how they see their fans, and also because it's very similar to Got7's name.
Why is Got7 so famous ?
Part of Got7's popularity is due, like many other groups, to their time and experience in the music world and therefore, the many songs and awards they have had. Also, they were the first JYP Entertainment group after 2PM, and that at the time brought them a lot of popularity. Although they themselves have said that they get more attention outside than inside Korea, so that gives them more ambition to become much more popular globally than just in Korea.

What is your most viewed video ?
His most viewed video is "Just Right," with over 377 million views on YouTube.
How important is IGot7 to Got7 ?
Even though they decided to leave JYP Entertainment, they managed to get ahead thanks to AhGaSe, and not only now, but throughout their entire career. They have become one of the most popular K-pop groups and have won numerous awards such as Seoul Music Awards Bonsang Awards, Mnet Asian Music Award for Worldwide Fans' Choice, MTV Europe Music Award for Best International Artist, Seoul Music Awards for Best New Artist, Golden Disk Awards: Album Division Award, etc.


Got7 concert with waves of beautiful lighsticks
Who are the members of Got7 ?
The group consists of Jackson, Jin-young, Mark Yi En Tuan, Lim Jae-beom, Kunpimook Bhuwakul, Kim Yugyeom and Choi Young-jae, better known as Jackson Wang, Park Jin-young, Mark Tuan, JB, BamBam, Kim Yugyeom and Choi Young-jae.
Jackson
Nombre completo: Jackson Wang
Fecha de nacimiento: 28 de marzo de 1994
Edad: 27 años
Estatura: 1.74m
Posición: Rapero, vocalista y bailarín
Lugar de nacimiento: Hong Kong, China
Signo Zodiacal: Aries
Jin-young
Full name: Park Jin Young
Date of birth: September 22, 1994
Age: 27 years old
Height: 1.78m
Position: Vocalist and dancer
Place of birth: Jinhae-gu, South Korea
Zodiac sign: Virgo
Mark
Full name: Mark Yi En Tuan
Date of birth: September 4, 1993
Age: 28 years old
Height: 1.75m
Position: Rapper, vocalist and dancer
Place of birth: Los Angeles, United States
Zodiac sign: Virgo
JB
Full name: Lim Jae Beom
Date of birth: January 6, 1994
Age: 28 years old
Height: 1.79m
Position: Leader, vocalist and dancer
Place of birth: Goyang, South Korea
Zodiac sign: Capricorn
BamBam
Full name: Kunpimook Bhuwakul
Date of birth: May 2, 1997
Age: 24 years old
Height: 1.77m
Position: Rapper, vocalist and dancer
Place of birth: Bangkok, Thailand
Zodiac sign: Taurus
Kim Yugyeom
Full name: Kim Yu Gyeom
Date of birth: November 17, 1997
Age: 24 years old
Height: 1.82
Position: Maknae, dancer, rapper and vocalist
Place of birth: Namyangju, South Korea
Zodiac sign: Scorpio
Young-jae
Full name: Choi Young Jae
Date of birth: September 17, 1996
Age: 25 years old
Height: 1.77m
Position: Vocalist and dancer
Place of birth: Mokpo, Jeolla, South Korea
Zodiac sign: Virgo
---