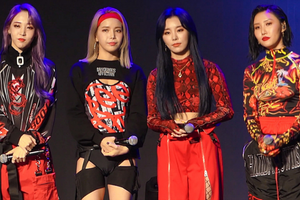 Mamamoo
When did Mamamoo debut ?
They debuted on June 18, 2014 with the song "Mr. Ambiguous" under the Rainbow Bridge World label.
What does Mamamoo mean ?
The name comes from the meaning of Mamamoo, which means "mom". This makes reference to the fact that it is one of the first words a baby says and lulls him or her to sleep, representing the intimate music they want others to hear.
What is the Mamamoo fandom called ?
The girls started joking around calling the radish fans "Moo" as it sounds like pro vegetable in Korean. Then the fans stuck with the vegetable as the symbol and name of the fandom.
Why is Mamamoo so famous ?
They have been in the group for a long time, and that has given them a lot of experience on stage, music and critics. Even though they debuted in a not so popular agency they made it very far, and I am sure their popularity will continue to grow.
What is your most viewed video ?
His most viewed video is "HIP", with over 262 million views on YouTube.  
How important is Moo to Mamamoo ?
Mamamoo has received both recognition and criticism from many people, but thanks to Moo they have been able to move forward and become one of the best k-pop groups. Moreover, in their debut, they were considered the best k-pop group in 2014.
Who are the members of Mamamoo ?
The group is composed of Jung Whee-in, Ahn Hye-jin, Moon Byul-yi and Kim Yong-sun, better known as Wheein, Hwasa, Moonbyul and Solar.
Wheein
Full name: Jung Whee In
Date of birth: April 17, 1995
Age: 26 years old
Height: 1.59m
Position: Vocalist and dancer
Place of birth: Jeonju, South Korea
Zodiac sign: Aries
Hwasa
Full name: Ahh Hye Jin
Date of birth: July 23, 1995
Age: 26 years old
Height: 1.60m
Position: Maknae, vocalist and rapper
Place of birth: Jeonju, South Korea
Zodiac sign: Leo
Moonbyul
Full name: Moon Byul Yi
Date of birth: December 22, 1992
Age: 29 years old
Height: 1.63m
Position: Rapper and dancer
Place of birth: Bucheon, South Korea
Zodiac sign: Capricorn
Solar
Nombre completo: Kim Yong Sun 
Fecha de nacimiento: 21 de febrero de 1991
Edad: 31 años
Estatura: 1.60m
Posición: Líder, visual, vocalista y bailarina
Lugar de nacimiento: Seúl,Corea del Sur
Signo Zodiacal: Piscis
---