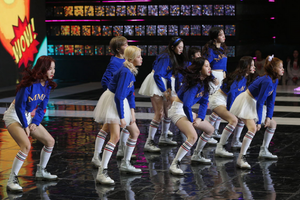 Momoland Kpop Profile
When did MOMOLAND debut ?
MOMOLAND debuted on November 10, 2016 with their mini album "Welcome to MOMOLAND" under MLD Entertainment. The members of MOMOLAND were chosen through the reality show Finding MOMOLAND. MOMOLAND initially debuted with 7 members, Hyebin, Nayun, JooE, Ahin, Nancy and Yeonwoo, but in 2017 Daisy and Taeha were added to the group, though in 2019 Yeonwoo and Taeha left the group and in 2020 Daisy.
What does MOMOLAND mean ?
Their name comes from a novel called "Momo", that's where the "MOMO" comes from, since they want to be like the hero of Momo and help hurt people, and "LAND" comes from it's their world, land or their fun-filled place. 
What is the MOMOLAND fandom called ?
They call their fans "Merry-Go-Round," because it's a carousel, an attraction that normally, people who can't get on other attractions get on it, referring to the fact that MOMOLAND wants people of all ages and who like all genres to be part of the fandom. It also means that once you get on the carousel you can't get off, just like with fandom, there is no way off.
Why is MOMOLAND so famous ?
MOMOLAND became very famous after their song "Bboom Bboom", it was very well known in the k-pop world and this made MOMOLAND very well known, since it doesn't come from a well known company, although even before that the group was already known for more of their songs and performances in Korea.
What is your most viewed video ?
His most viewed video is "Bboom Bboom", with over 513 million views on YouTube.
How important is Merry-Go-Round to MOMOLAND ?
Merry-Go-Round has been very supportive of MOMOLAND for a long time, and now with the departure of some members, Merry-Go-Round has been very supportive of MOMOLAND and they have moved forward. Also, MOMOLAND won the Seoul Music Awards Bonsang Awards, Golden Disk Awards: Song Division Award and Mnet Asian Music Award for Discovery of the Year. 
Songs of MOMOLAND
MOMOLAND currently has around 47 songs, among them the ones that have a music video and are the best known are Bboom Bboom, BBAm, BANANA CHACHA, Thumbs Up, Wrap Me In Plastic, I'm so Hot, Yummy Yummy Love, Ready Or Not, etc.
MOMOLAND Albums
Mini albums
The group has released a total of 8 albums. Their debut album called Welcome To Momoland was released on November 10, 2016. In 2017 they released their first mini album titled Freeze! The following year they release two mini albums, GREAT! and Fun to The World and in 2019 they return with the mini album Show Me.
Albums
On September 4, 2017, they release their first Japanese album called Chiri Chiri, featuring new singles and Japanese versions of their previous songs, such as bboom Boom (Japanese Ver.), BBam (Japanese Ver.) and Only One You (Japanese Ver.), among others. On June 11, 2020, MOMOLAND returns with a special album titled Starry Night.
Who are the members of MOMOLAND ?
The group is composed of Nancy Jewel McDonie, Lee Joo-won, Lee Hye-bin, Lee Ah-in, Kim Na-yun and Sung Ji-yeon, better known as Nancy, JooE, Hye-bin, Ahin, Kim Na-yun and Jane.
Nancy
Full name: Nancy Jewel McDonie
Date of birth: April 13, 2000
Age: 21 years old
Height: 1.62m
Position: Vocalist, dancer and maknae
Place of birth: Daegu, South Korea
Zodiac sign: Aries
JooE
Full name: Lee Joo Won
Date of birth: August 18, 1999
Age: 22 years old
Height: 1.64m
Position: Vocalist, rapper and dancer
Place of birth: Bucheon, South Korea
Zodiac sign: Leo
Hye Bin
Full name: Lee Hye Bin
Date of birth: January 12, 1996
Age: 26 years old
Height: 1.65m
Position: Leader, vocalist, rapper and dancer
Place of birth: Andong, South Korea
Zodiac sign: Capricorn
Ahin
Full name: Lee Ah In
Date of birth: September 27, 1999
Age: 22 years old
Height: 1.60m
Position: Vocalist and dancer
Place of birth: Wonju, South Korea
Zodiac sign: Libra
Kim Na Yun
Full name: Kim Na Yun
Date of birth: July 31, 1998
Age: 23 years old
Height: 1.68m
Position: Vocalist and dancer
Place of birth: Seoul, South Korea
Zodiac sign: Leo
Jane
Full name: Sung Ji Yeon
Date of birth: December 20, 1997
Age: 24 years old
Height: 1.67m
Position: Vocalist and dancer
Place of birth: Changwon, South Korea
Zodiac sign: Sagittarius
---