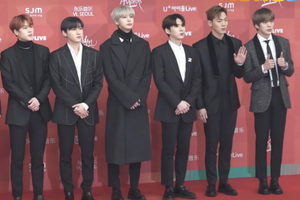 Monsta X
When did Monsta X debut ?
Monsta X debuted on May 14, 2015 with the song "Trespass" under Starship Entertainment.
What does Monsta X mean ?
The word "MONSTA" comes from two words together, the first is "Mon", which means "Me" in French and the second is "Sta", which is short for "star", while the "X" comes from "existence", referring to the fact that the group is an existing star.
What is the fandom (fans) of Monsta X called ?
They call their fans "MONBEBE", because if you separate it into two words you get "Mon" (me) and "Bebe" (baby), referring to the fact that Monsta X sees MONBEBE as their babies.
Why is Monsta X so famous ?
Monsta X is considered one of the most important k-pop groups, since they have become well known, so much so that they did a world tour where they met many artists such as Cardi B., Shawn Mendez, among others. That made them to be so popular and to be considered a very important group in the whole k-pop.
What is your most viewed video ?
His most viewed MV is "HERO", with over 115 million views on YouTube.
How important is MONBEBE to Monsta X ?
Monsta X has managed to stand out not only in the third generation of k-pop, but in everything thanks to all the support of MONBEBE, now they are very popular for all their performances and awards such as Seoul Music Awards Bonsang Awards, Mnet Asian Music Award for Worldwide Fans' Choice, Golden Disk Awards: Album Division Award, Golden Disc Award Next Generation Award, among others.
Lightstick
Its lightstick is black and says the name of the group on the stick. At the top it has a crown in the shape of an "M" inside a diamond of the same shape, just like the first letter of its name, and all the way to the top it has the group's logo in white.
Monsta X concert with waves of beautiful lighsticks
Who are the members of Monsta X ?
The group is composed of Lee Min-hyuk, Son Hyun-woo, Im Chang-kyun, Chae Hyung-won, Yoo Ki-hyun and Lee Joo-heon, better known as Minhyuk, Shownu, I.M, Hyungwon, Kihyun and Joohoney.
Wonho(ex-integrante)
Full name: Lee Ho Seok
Date of birth: March 1, 1993
Age: 28 years old
Height: 1.78m
Position: Vocalist and dancer
Place of birth: Anyang, Gyeonggi-do, South Korea
Zodiac sign: Pisces
Minhyuk
Full name: Lee Min Hyuk
Date of birth: November 3, 1994
Age: 27 years old
Height: 1.79m
Position: Vocalist and dancer
Place of birth: Gwangju, South Korea
Zodiac sign: Scorpio
Shownu
Full name: Son Hyun Woo
Date of birth: June 18, 1992
Age: 29 years old
Height: 1.81m
Position: Leader, vocalist and dancer
Place of birth: Seoul, South Korea
Zodiac sign: Gemini
I.M
Full name: Im Chang Kyun
Date of birth: January 26, 1996
Age: 26 years old
Height: 1.75m
Position: Rapper, dancer and maknae
Place of birth: Gwangju, South Korea
Zodiac sign: Aquarius
Hyungwon
Full name: Chae Hyung Won
Date of birth: January 15, 1994
Age: 28 years old
Height: 1.83m
Position: Vocalist and dancer
Place of birth: Gwangju, South Korea
Zodiac sign: Capricorn
Kihyun
Full name: Yoo Ki Hyun
Date of birth: November 22, 1993
Age: 28 years old
Height: 1.74m
Position: Vocalist and dancer
Place of birth: Goyang, Gyeonggi-do, South Korea
Zodiac sign: Sagittarius
Joohoney
Nombre completo: Lee Joo Heon
Fecha de nacimiento: 6 de octubre de 1994
Edad: 27 años
Estatura: 1.77m
Posición: Vocalista, rapero y bailarín
Lugar de nacimiento: Daegu, Corea del Sur
Signo Zodiacal:Lee Joo Heon
---