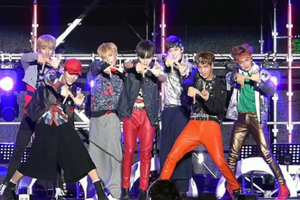 NCT
When did you make your debut ?
NCT debuted on July 7, 2016 on the stage of M! Countdown with "Fire Truck" and "Once Again" under SM entertainment.
What does it mean ?
Its name stands for "Neo Culture Technology", because its concept is to open up and expand throughout the world without restrictions, and to make itself known all over the world. 
What do you call your fans ?
They call their fans "NCTzen", pronounced as "citizen", because they are the citizens of the city "N" all over the world.
Why is it so famous ?
They are divided into 3 subunits, NCT Dream, NCT U and NCT 127, all made for different purposes. NCT Dream is made for teenagers. NCT U is a special edition of a magazine. And NCT 127 is the local version, i.e. Seoul.
What is your most viewed video ?
NCT's most viewed video is from the NCT U unit, "Make A Wish" , with 189,691,601 million views on YouTube.
How important is NCTzen to NCT ?
NCTzen has managed to make each of these units possible, making them all win the Mnet Asian Music Award for Best New Artist - Asian Group, Mnet Asian Music Award for Worldwide Fans' Choice, Golden Disk Awards: Album Division Award and Mnet Asian Music Award for Favorite Male Group, from 2017 to 2021.
Who are the members of NCT ?
NCT is comprised of Jae Hyun, Jaemin, Lucas, Taeyong, Jisung, Yuta Nakamoto, Mark Lee, Haechan, Ten, Jungwoo, Jeno, Johnny, Renjun, Winwin, Shotaro, Jung Sungchan, Chen Le, Doyoung, Liu Yangyang, Xiaojun, Taeil, Hendery and Kun.
Jae Min
Full name: Na Jae Min
Date of birth: August 13, 2000
Age: 21 years old
Height: 1.76m
Position: Vocalist, rapper, dancer and visual artist
Place of birth: Busan, South Korea
Zodiac sign: Leo
Mark
Full name: Mark Lee
Date of birth: August 2, 1999
Age: 22 years old
Height: 1.75m
Position: Vocalist, rapper and dancer
Place of birth: Vancouver, Canada
Zodiac sign: Leo
Ren Jun
Full name: Huáng Rén Jùn
Date of birth: March 23, 2000
Age: 21 years old
Height: 1.71m
Position: Vocalist and dancer
Place of birth: Jilin, China
Zodiac sign: Aries
Jeno
Full name: Lee Je No
Date of birth: April 23, 2000
Age: 21 years old
Height: 1.78m
Position: Vocalist, rapper, dancer and visual artist
Place of birth: Incheon, South Korea
Zodiac sign: Taurus
Hae Chan
Full name: Lee Dong Hyuck
Date of birth: June 6, 2000
Age: 21 years old
Height: 1.78m
Position: Vocalist and dancer
Place of birth: Seoul, South Korea
Zodiac sign: Gemini
Chen Le
Full name: Zhong Chen Le
Date of birth: November 22, 2001
Age: 20 years old
Height: 1.79m
Position: Vocalist and dancer
Place of birth: Shanghai, China
Zodiac Sign: Scorpio
Ji Sung
Full name: Park Ji Sung
Date of birth: February 5, 2002
Age: 20 years old
Height: 1.79m
Position: Vocalist, rapper, dancer, and maknae
Place of birth: Seoul, South Korea
Zodiac sign: Aquarius
Tae Yong
Full name: Lee Tae Yong
Date of birth: July 1, 1997
Age: 24 years old
Height: 1.75m
Position: Vocalist, rapper, dancer and visual artist
Birthplace: Gwanak-gu, Seoul, South Korea
Zodiac sign: Cancer
Yuta
Full name: Nakamoto Yuta
Date of birth: October 26, 1995
Age: 26 years old
Height: 1.76m
Position: Vocalist, rapper and dancer
Place of birth: Kadoma, Kansai District, Osaka Prefecture, Japan
Zodiac Sign: Scorpio
Ten
Full name: Lee Young Heum
Date of birth: February 27, 1996
Age: 25 years old
Height: 1.72m
Position: Vocalist, rapper and dancer
Place of birth: Bangkok, Thailand
Zodiac Sign: Pisces
Jungwoo
Full name: Kim Jung Woo
Date of birth: February 19, 1998
Age: 24 years old
Height: 1.80m
Position: Vocalist and dancer
Place of birth: Gimpo, South Korea
Zodiac Sign: Pisces
Johnny
Full name: John Seo
Date of birth: February 9, 1995
Age: 27 years old
Height: 1.85m
Position: Vocalist, rapper and dancer
Place of birth: Chicago, Illinois, USA
Zodiac sign: Aquarius
Winwin
Full name: Dong Si Cheng
Date of birth: October 28, 1997
Age: 24 years old
Height: 1.82m
Position: Vocalist, rapper, dancer, visual artist
Place of birth: Zhejiang, China
Zodiac sign: Scorpio
Shotaro
Full name: Osaki Shotaro
Date of birth: November 25, 2000
Age: 21 years old
Height: 1.78m
Position: Dancer and rapper
Place of birth: Kanagawa Prefecture, Japan
Zodiac sign: Sagittarius
Sung Chan
Full name: Jung Sung Chan (Jeong Seong Chan)
Date of birth: September 13, 2001
Age: 20 years old
Height: 1.87m
Position: Rapper and dancer
Place of birth: Seoul, South Korea
Zodiac sign: Virgo
Doyoung
Full name: Kim Dong Young
Date of birth: February 1, 1996
Age: 26 years old
Height: 1.78m
Position: Vocalist and dancer
Place of birth: Guri, Gyeonggi-do South Korea
Zodiac sign: Aquarius
Yang Yang
Full name: Liu Yang Yang
Date of birth: October 10, 2000
Age: 21 years old
Height: 1.75m
Position: Vocalist, rapper and dancer
Place of birth: Taiwan
Zodiac sign: Libra
Xiaojun
Full name: Xiao De Jun
Date of birth: August 8, 1999
Age: 22 years old
Height: 1.73m
Position: Vocalist and dancer
Place of birth: Guangdong, China
Zodiac sign: Leo
Taeil
Full name: Moon Tae Il
Date of birth: June 14, 1994
Age: 27 years old
Height: 1.71m
Position: Vocalist and dancer
Place of birth: Seoul, South Korea
Zodiac sign: Gemini
Hendery
Full name: Wong Kun Hang
Date of birth: September 28, 1999
Age: 22 years old
Height: 1.75m
Position: Rapper, dancer and visual artist
Place of birth: Macao, China
Zodiac sign: Libra
Kun
Full name: Qian Kun
Date of birth: January 1, 1996
Age: 26 years old
Height: 1.76
Position: Vocalist and dancer
Place of birth: Fújiàn, China
Zodiac sign: Capricorn
Jae Hyun
Full name: Jeong Yun Oh
Date of birth: February 14, 1997
Age: 25 years old
Height: 1.80m
Position: Vocalist, rapper, dancer and visual artist
Place of birth: Seoul, South Korea
Zodiac sign: Aquarius
Lucas
Full name: Wong Yuk Hei
Date of birth: January 25, 1999
Age: 23 years old
Height: 1.84m
Position: Rapper, dancer and visual artist
Place of birth: Hong Kong, China
Zodiac sign: Aquarius
---