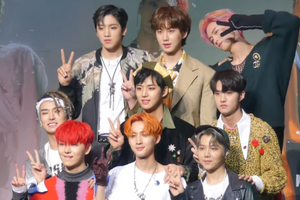 PENTAGON
When did PENTAGON debut ?
They were introduced by the "Pentagon Maker" program, and debuted on October 10, 2016 with their song "Gorilla" under Cube Entertainment.
What does PENTAGON mean ?
Its name comes from the word "pentagon" because, like the number of sides of a pentagon, members want to achieve the 5 skills of singing/rapping, dancing, teamwork, talent and intelligence.
What is the PENTAGON fandom called ?
They call their fans "UNIVERSE", because, for PENTAGON, their fans are their universe, because with their support and affection PENTAGON can move forward.
Why is PENTAGON so famous ?
They have gained a lot of popularity since their debut, winning different awards and with their many MVs and albums. They have won Asian Model Awards: Best New Artist, Soribada Best K-Music Awards: Best Newcomer Award, Korean Culture Entertainment Award: K-pop Singer of the Year, Korea Popular Music Awards: Popular Singing Performance Award, Asia Model Awards: Popular Star Award, MBC Plus X Genie Music Awards: M2 Hot Star Award, TENASIA Top Ten Awards: 10 Artists (Japan), SBS The Show (20/10): "Daisy" and Asia Artist Awards: Icon Award (Singer). Their popularity keeps growing more and more and that's why they are well known within the third generation of k-pop.

What is your most viewed video ?
His most viewed video is "Shine," with more than 225 million views on YouTube.
How important is UNIVERSE to PENTAGON ?
UNIVERSE has supported PENTAGON a lot these almost 5 years since their debut, as the group has had to go through Dawn's departure from the group and still the group came out ahead, becoming very famous in the third generation. They have also won awards since their debut, such as Model New Star Award and New Artist of the Year Award.
Lightstick
Its lightstick is black, with a center ring that glows white, surrounding the UNIVERSE logo, which is very similar to that of the group.
Who are the members of PENTAGON ?
The group is composed of Yang Hong-seok, Jung Woo-seok, Yan an, Yuto Adachi, Kang Hyung-gu, Lee Hoe-taek, Jo Jin-ho, Shin Won-ho and Yeo Chang-gu, better known as HongSeok, Wooseok, Yan an, Yuto, Kino, Hui, Jinho, Shinwon and Yeo One. It was originally composed of HongSeok, Wooseok, Yan an, Yuto, Kino, Hui, Jinho, Shinwon, Yeo One and Dawn, but Dawn left the group due to having problems with the company after confirming her relationship with Hyuna without Cube Entertainment's consent, as did Hyuna.
HongSeok
Full name: Yang Hong Seok
Date of birth: April 17, 1994
Age: 27 years old
Height: 1.81m
Position: Vocalist and dancer
Place of birth: Seoul, South Korea
Zodiac sign: Aries
Wooseok
Full name: Jung Woo Seok
Date of birth: January 31, 1998
Age: 24 years old
Height: 1.88m
Position: Rapper, dancer and maknae
Place of birth: Gwangju, South Korea
Zodiac sign: Aquarius
Yan an
Nombre completo: Yan An
Fecha de nacimiento: 25 de octubre de 1996
Edad: 25 años
Estatura: 1.86m
Posición: Vocalista, bailarín y visual
Lugar de nacimiento: Shanghai, China
Signo Zodiacal: Escorpio
Yuto
Full name: Adachi Yūto
Date of birth: January 23, 1998
Age: 24 years old
Height: 1.82m
Position: Rapper and dancer
Place of birth: Nagano, Japan
Zodiac sign: Aquarius
Kino
Full name: Kang Hyung Gu
Date of birth: January 27, 1998
Age: 24 years old
Height: 1.77m
Position: Vocalist and dancer
Place of birth: Busan, South Korea
Zodiac sign: Aquarius
Hui
Full name: Lee Hwi Taek
Date of birth: August 28, 1993
Age: 28 years old
Height: 1.73m
Position: Leader, vocalist and dancer
Place of birth: Gwacheon, South Korea
Zodiac sign: Virgo
Jinho
Full name: Cho Jin Ho
Date of birth: April 17, 1992
Age: 29 years old
Height: 1.68m
Position: Vocalist and dancer
Place of birth: Daejeon, South Korea
Zodiac sign: Aries
Shinwon
Full name: Koh Shin Won
Date of birth: December 11, 1995
Age: 26 years old
Height: 1.84m
Position: Vocalist and dancer
Place of birth: Cheongju, South Korea
Zodiac sign: Sagittarius
Yeo One
Full name: Yeo Chang Gu
Date of birth: March 27, 1996
Age: 25 years old
Height: 1.79m
Position: Vocalist and dancer
Place of birth: Daejeon, South Korea
Zodiac sign: Aries
---