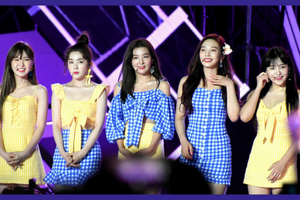 Red Velvet
When did Red Velvet debut ?
Red Velvet debuted on August 1, 2014 with their single "Happiness" under S.M. Entertainment. The group started with members Seulgi, Irene, Wendy and Joy, but on March 11, 2015, Yeri was added as the fifth member.
What does Red Velvet mean ?
Its name is separated into "Red", which is for seduction and energy, and "Velvet", which is for velvet softness and elegance.
What is the Red Velvet fandom called ?
They call their fans "ReVeLuv", from the combination of Red, Velvet, and love, which in English is "Luv" (Love). It is also called so because in Korean it sounds like "Level Up".
Why is Red Velvet so famous ?
Thanks to their long time in the k-pop industry, Red Velvet has a lot of experience, and therefore many more songs and albums than many other groups, which has made their fame bigger and helped them win numerous awards, which are Seoul Music Awards Bonsang Awards, Mnet Asian Music Award for Best Female Group, Golden Disk Awards: Song Division Award, Seoul Music Awards for Best New Artist, Mnet Asian Music Award for Best Female Group Choreography, Teen Choice Award for Electronic Dance Music - EDM Song, Golden Disk Award for Best New Artist - Album and Golden Disc Award CeCi Asia Icon Award.
What is your most viewed video ?
His most viewed video is "Bad Boy" with over 320 million views on YouTube.
How important is RedVeLuv to Red Velvet ?
Throughout their time with the group, Red Velvet has achieved more and more fame thanks to ReVeLuv, who have also managed to get Red Velvet awards to date and that their videos have more and more views on YouTube, such as "Bad Boy", which a year after its release was already their most watched video.
Lightstick
Their lightstick in my opinion is one of the most beautiful in all of k-pop, and its coral color, besides being a very nice color, is the color that represents Red Velvet, and I think it was a great idea to put their lightstick in that color. Also, I think the way they put the group's logo on the top was a very creative and visual idea. Here it is so you can see it for yourselves.
Who are the members of Red Velvet ?
The group consists of Bae Joo-hyun, Kim Ye-rim, Park Soo-young, Son Seung-wan and Kang Seul-gi, better known as Irene, Yeri, Joy, Wendy and Seulgi.
Irene
Full name: Bae Joo Hyun
Date of birth: March 29, 1991
Age: 30 years old
Height: 1.58m
Position: Leader, rapper, dancer, vocalist
Place of birth: Daegu, South Korea
Zodiac sign: Aries
Yeri
Full name: Kim Ye Rim
Date of birth: March 5, 1999
Age: 22 years old
Height: 1.58m
Position: Vocalist, dancer, rapper and maknae
Birthplace: Seoul, South Korea
Zodiac Sign: Pisces
Joy
Full name: Park Soo Young
Date of birth: September 3, 1996
Age: 25 years old
Height: 1.68m
Position: Vocalist, rapper and dancer
Place of birth: Jeju Island, South Korea
Zodiac sign: Virgo
Wendy
Full name: Son Seung Wan
Date of birth: February 21, 1994
Age: 28 years old
Height: 1.59
Position: Vocalist and dancer
Place of birth: Seongbuk-Dong, Seoul, South Korea
Zodiac sign: Pisces
Seulgi
Full name: Kang Seul Gi
Date of birth: February 10, 1994
Age: 28 years old
Height: 1.62m
Position: Vocalist and dancer
Place of birth: Ansan, Gyeonggi-do, South Korea
Zodiac sign: Aquarius
---