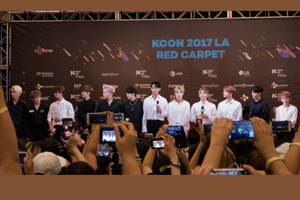 Seventeen
When did Seventeen debut ?
Seventeen debuted on May 26, 2015 with the song "Adore U" under Pledis Entertainment.
What does Seventeen mean ?
Its name comes from the number seventeen, seventeen in English, since they added the number of members of the group, plus the 3 subunits in which it is divided, plus the whole group (13+3+1=17). They also added another meaning to the last number, which is 1 fandom.
What is the Seventeen fandom called ?
They call their fans "Carat", which in Spanish means "carat", because it is the measure of precious stones, and the bigger it is, the more valuable it is, just like their fans.
Why is Seventeen so famous ?
His company did a lot of promotion for Seventeen before their debut, as they had their contest to see which members would form the group and were subsequently promoted in different shows. In addition, Seventeen is well known for writing and producing their own songs and performing their own choreographies. As soon as the group debuted, their songs became very successful and recognized.
What is your most viewed video ?
His most viewed video is "Don't Wanna Cry", with over 203 million views on YouTube.
How important is Carat to Seventeen ?
Seventeen receives a lot of love and support from Carat, being that they have more and more songs, views and recognitions, their popularity grows a lot and the group has become one of the most well-known K-pop groups. In the 6 years since their debut, they have received many awards, such as Seoul Music Awards Bonsang Awards, Mnet Asian Music Award for Worldwide Fans' Choice, Golden Disk Awards: Album Division Award, Seoul Music Awards for Best New Artist, Seoul Music Awards for Best New Artist, among others.


Lightstick
Her lightstick is a very pretty color combination of blue, pink and purple, with her name in the center. On top of her lightstick she has a blue diamond on top of a light pink base, which glows white in the dark.
Seventeen concert with waves of beautiful lighsticks
Who are the members of Seventeen ?
The group members are Kim Min-gyu, Yoon Jeong-han, Kwon Soon-young, Moon Junhwi, Lee Ji-hoon, Xú Mínghào, Jeon Won-woo, Hansol Vernon Chwe, Dokyeom, Choi Seung-cheol, Hong Ji-soo, Lee Chan and Boo Seung-kwan, better known as Mingyu, Jeong Han, Hoshi, Jun, Woozi, The8, Wonwoo, Vernon, DK, S. Coups, Joshua, Dino and Seungkwan.
Mingyu
Full name: Kim Min Gyu
Date of birth: April 6, 1997
Age: 24 years old
Height: 1.87m
Position: Rapper and dancer
Birthplace: Anyang-si, Gyeonggi-do, South Korea
Zodiac sign: Aries
Jeong Han
Full name: Yoon Jeong Han
Date of birth: October 4, 1995
Age: 26 years old
Height: 1.78m
Position: Vocalist and dancer
Place of birth: Gangbuk-gu, Seoul, South Korea
Zodiac sign: Libra
Hoshi
Full name: Kwon Soon Young
Date of birth: June 15, 1996
Age: 25 years old
Height: 1.77m
Position: Vocalist and dancer
Birthplace: Namyangju-si, Gyeonggi-do, South Korea
Zodiac sign: Gemini
Jun
Full name: Wen Jun Hui
Date of birth: June 10, 1996
Age: 25 years old
Height: 1.82m
Position: Vocalist and dancer
Place of birth: Shenzhen, Guangdong, China
Zodiac sign: Gemini
Woozi
Full name: Lee Ji Hoon
Date of birth: November 22, 1996
Age: 25 years old
Height: 1.64m
Position: Vocalist and dancer
Place of birth: Gwangan-dong, Busan, South Korea
Zodiac sign: Sagittarius
The8
Full name: Xú Míng Hào
Date of birth: November 7, 1997
Age: 24 years old
Height: 1.79m
Position: Vocalist and dancer
Place of birth: Haicheng, Anshan, China
Zodiac sign: Scorpio
Wonwoo
Full name: Jeon Won Woo
Date of birth: July 17, 1996
Age: 25 years old
Height: 1.82m
Position: Vocalist, rapper and dancer
Place of birth: Changwon, South Gyeongsang, South Korea
Zodiac sign: Cancer
Vernon
Full name: Hansol Vernon Chwe
Date of birth: February 18, 1998
Age: 24 years old
Height: 1.78m
Position: Rapper and dancer
Place of birth: New York, United States
Zodiac sign: Aquarius
DK
Full name: Lee Seok Min
Date of birth: February 18, 1997
Age: 25 years old
Height: 1.79m
Position: Vocalist and dancer
Place of birth: Mapo-gu, Seoul, South Korea
Zodiac sign: Aquarius
S. Coups
Full name: Choi Seung Cheol
Date of birth: August 8, 1995
Age: 26 years old
Height: 1.78m
Position: Leader, vocalist, rapper and dancer
Place of birth: Dalseo-gu, Daegu, South Korea
Zodiac sign: Leo
Joshua
Full name: Joshua Jisoo Hong
Date of birth: December 30, 1995
Age: 26 years old
Height: 1.77m
Position: Vocalist and dancer
Place of birth: Los Angeles, California, USA
Zodiac sign: Capricorn
Dino
Full name: Lee Chan
Date of birth: February 11, 1999
Age: 23 years old
Height: 1.74m
Position: Vocalist, rapper, dancer and maknae
Place of birth: Iksan, Jeollabuk-do, South Korea
Zodiac sign: Aquarius
Seungkwan
Full name: Boo Seung Kwan
Date of birth: January 16, 1998
Age: 24 years old
Height: 1.75m
Position: Vocalist and dancer
Place of birth: Jeju Island, South Korea
Zodiac sign: Capricorn
---