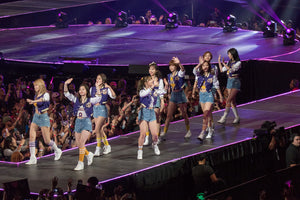 TWICE
When did TWICE debut ?
He made his debut on October 20, 2015 under JYP Entertainment, with the song "Like OOH-AHH".
What does TWICE mean ?
The group got that name because "twice" means "twice" in English, referring to the fact that they are going to conquer the public by both eyes and ears.
What do you call your fans ?
They called their fans "ONCE" because it is the accompaniment of "TWICE", and because if they gave them love, they would give them double.
Why is TWICE so famous ?
TWICE has been a lot of things in their MVs, such as cheerleaders, students, famous movie characters and danced with zombies, as well as changed a lot of concept. Also, it is a group that does a lot of Japanese comebacks as well as Korean ones, which has led them to become one of the most famous kpop groups in Japan. They have become very popular in Korea and the world thanks to their different concepts and talents, and now they are one of the most famous groups in the whole industry.
What is your most viewed video ?
His most viewed video is the song "TT", which has over 582 million views on YouTube.
How important is ONCE to TWICE ?
On TWICE's fifth anniversary, fans celebrated them and told them how much they admired TWICE. Thanks to ONCE, TWICE has had many achievements and traced a beautiful path these 5 years since their debut. In addition, TWICE has won various awards such as Mnet Asian Music Award for Song of the Year, Seoul Music Awards Bonsang Awards, Golden Disk Awards: Song Division Award, Mnet Asian Music Award for Worldwide Fans' Choice, Japan Record Award for Excellent Work, among many others.
Lightsticks at Twice concerts
Who are the members of TWICE ?
The group is composed of Im Na Yeon, Yoo Jeong Yeon, Momo Hirai, Sana Minatozaki, Park Ji-hyo, Sharon Mina Myoui, Kim Da-hyun, Son Chae Young and Chou Tzuyu, better known as Nayeon, Jeongyeon, Momo, Sana, Jihyo, Mina, Dahyun, Chaeyoung and Tzuyu.
Sana
Full name: Minatozaki Sana
Date of birth: December 29, 1996
Age: 25 years old
Height: 1.66m
Position: Vocalist and dancer
Place of birth: Tennoji-ku, Osaka, Japan
Zodiac sign: Capricorn
Nayeon
Full name: Im Na Yeon
Date of birth: September 22, 1995
Age: 26 years old
Height: 1.64m
Position: Vocalist, center and dancer
Place of birth: Gangdong-gu, Seoul, South Korea
Zodiac sign: Virgo
Jeongyeon
Full name: Yoo Jeong Yeon
Date of birth: November 1, 1996
Age: 25 years old
Height: 169m
Position: Vocalist and dancer
Place of birth: Suwon, South Korea
Zodiac sign: Scorpio
Tzuyu
Full name: Zhōu Zi Yú
Date of birth: June 14, 1999
Age: 22 years old
Height: 1.72
Position: Vocalist, dancer, visual artist and maknae
Place of birth: Tainan, Taiwan
Zodiac Sign: Gemini
Dahyun
Full name: Kim Da Hyun
Date of birth: May 28, 1998
Age: 23 years old
Height: 160m
Position: Rapper, dancer and vocalist
Place of birth: Seongnam, Gyeonggi-do, South Korea
Zodiac Sign: Gemini
Mina
Full name: Myoui Mina
Date of birth: March 24, 1997
Age: 24 years old
Height: 163cm
Position: Vocalist and dancer
Place of birth: San Antonio, Texas, USA.
Zodiac sign: Aries
Momo
Full name: Hirai Momo
Date of birth: November 9, 1996
Age: 25 years old
Height: 1.62m
Position: Dancer, rapper and vocalist
Place of birth: Kyotanabe, Kyoto, Japan.
Zodiac sign: Scorpio
Jihyo
Full name: Park Ji Hyo
Date of birth: February 1, 1997
Age: 25 years old
Height: 1.62m
Position: Leader, vocalist and dancer
Birthplace: Guri, Gyeonggi-do, South Korea
Zodiac sign: Aquarius
Chaeyoung
Full name: Son Chae Young
Date of birth: April 23, 1999
Age: 22 years old
Height: 1.59m
Position: Rapper, dancer and vocalist
Place of birth: Dunchon-dong, Gangdong-gu, Seoul, South Korea
Zodiac sign: Taurus
---