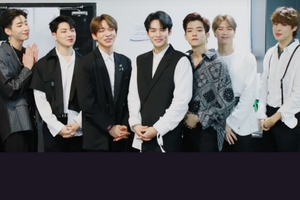 VICTON
When did VICTON debut ?
VICTON debuted on November 8, 2016 with his mini album "Voice To New World" under Play M Entertainment.
What does VICTON mean ? 
Its name comes from the acronym "VoICe TO New World", just like the group's first album.
What is the VICTON fandom called ?
They call their fans "Alice", because it comes from the acronym "Always we Love the voICE", as their fans will always love VICTON's songs and will always support them.
What is your most viewed video ?
His most viewed video is "Mayday", with more than 22 million views on YouTube.
How important is Alice to VICTON ?
VICTON has received a lot of support since her debut, and thanks to Alice VICTON has won Maxim K-Model Awards: Model Tainer Awards, BS The Show (12/11): "Nostalgic Night", SBS The Show (17/03): "Howling", SBS The Show (09/06): "Mayday", Soribada Best K-Music Awards: Bonsang and Brand Customer Loyalty Awards: Male Idol - Hot Trend.
Who are the members of VICTON ?
The group consists of Jung Su Bin, Han Seung-woo, Do Han-se, Choi Byung-chan, Lim Se Jun, Heo Chan and Kang Seung-sik.
Su Bin
Full name: Jung Su Bin
Date of birth: April 5, 1999
Age: 22 years old
Height: 1.75m
Position: Vocalist, rapper, dancer and maknae
Place of birth: Daejeon, South Korea
Zodiac sign: Aries
Seung Woo
Full name: Han Seung Woo
Date of birth: December 24, 1994
Age: 27 years old
Height: 1.84m
Position: Vocalist, rapper, dancer and maknae
Place of birth: Buk-gu, Busan, South Korea
Zodiac sign: Capricorn
Han Se
Full name: Do Han Se
Date of birth: September 25, 1997
Age: 24 years old
Height: 1.74m
Position: Rapper and dancer
Place of birth: Incheon, South Korea
Zodiac sign: Libra
Byung Chan
Full name: Choi Byung Chan
Date of birth: November 12, 1997
Age: 24 years old
Height: 1.85m
Position: Vocalist and dancer
Place of birth: Jeonju, South Korea
Zodiac sign: Scorpio
Se Jun
Full name: Lim Se Jun (Im Se Joon)
Date of birth: May 4, 1996
Age: 25 years old
Height: 1.80m
Position: Vocalist and dancer
Place of birth: Seoul, South Korea
Zodiac sign: Taurus
Chan
Nombre completo: Heo Chan
Fecha de nacimiento: 14 de diciembre de 1995
Edad: 26 años
Estatura: 1.77m
Posición: Vocalista y bailarín
Lugar de nacimiento: Seongnam, Corea del Sur
Signo Zodiacal: Sagitario
Seung-sik
Full name: Kang Seung Sik
Date of birth: April 16, 1995
Age: 26 years old
Height: 1.80m
Position: Leader, vocalist and dancer
Place of birth: Gyeonggi-do, South Korea
Zodiac sign:
---