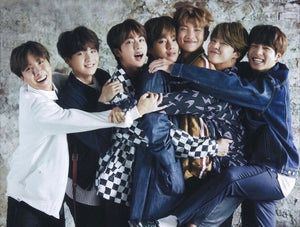 Who are the members of BTS ? Presentation, History and KPOP
Do you really know the famous South Korean group BTS? Do you want to know more about Bangtan Sonyeodan? Do you want to know the musical history of Jungkook, Suga, Jimin, Jin, J-Hope, V and RM?

Welcome, we are K-pop fans and we will introduce you to the most famous music group in South Korea! Meanwhile, if you like them too, don't hesitate! Come inside our shop, we have BTS official Merch !

BTS is a Korean pop music group that started in 2013. It is composed of 7 talented boys Jungkook, Suga, Jimin, Jin, J-Hope, V and RM. This K-pop group is the most famous in the world thanks to many titles like DNA or Boy with Luv.

In this article, you will know more about :

• The beginnings of the 7 idols in the K-pop
• The international success of this Boysband
• The influence of BTS through the Army
Through this article, you will learn more about the BTS so let's get started.
The characteristics of the BTS group
Name: BTS (방탄소년단)
Start: 2013

Members:

• Jin is a singer. (Kim Seok-jin)
• Suga is a rapper. (Min Yoon-gi)
• J-Hope is a rapper. (Jung Ho-seok)
• RM or Rap Monster is a rapper. (Kim Nam-joon)
• Jimin is a singer. (Park Ji-min)
• V is a singer. (Kim Tae-hyung)
• Jungkook is a singer. (Jeon Jeong-guk)
Fandom name: A.R.M.Y (Adorable Representative MC of Youth)

Agency: BigHit Entertainment

Style: Hip Hop

Albums: Dark & Wild, Wings, Love Yourself: Tear, Wake Up, Youth, Face Yourself, Map of the soul...
The Incredible Story of the Bangtan Boys
This Korean boyband made their official debut in 2013 with the song "No more dream". Their concept was close to the American hip hop style, with a powerful rap and a street/punk look. This slightly offbeat style didn't win over the public at first glance, but a community of fans still formed, making them rise and evolve over the years. By the way, we have Jimin's favorite Butter T-shirt inside our shop !
The most famous K-pop group in the world
It was in 2015 with their song "I NEED U" that their real career began, earning them their first win. This was quickly followed by many others. With the album series "the most beautiful moment in life", BTS found their own style of music, attracting many more people into their fandom. Gradually, the group expanded overseas, collaborating with American artists and attending shows outside Asia. This group has become the most listened to K-pop group in the world and the most known internationally.
The 3 most popular music of the BTS
Bangtan Boys
, is a South Korean boy band, originally from Seoul. It was formed in 2013 by
Big Hit Entertainment
.
Dynamite
is the Boys Band's most recent track to surpass one billion views. If you want to know why this song is so popular and what the seven handsome boys are doing in the music video for the song, you can find out in
this video
. After watching, will you also like them?
BTS fans are called ARMY
Today BTS is often recognized as the most popular Kpop group in the world, and their outstanding work is rewarded with many various awards. If you are also a fan of BTS KPOP Band and you love KPOP culture very much, then we are sure you will love
KPOP Merch
in our store!

In addition, BTS's fandom, the ARMYs, is the biggest fandom in the Korean music industry. The ARMYs is a tight-knit fandom that regularly gets involved in many causes, whether it's for the group or for causes that are close to their hearts!
The Bangtan Boys, impressive artists
In this article, we have seen that the BTS have broken all the records in the world of K-pop and now have a place of choice on the international scene. This incredible group is composed of impressive singers and dancers.
Considering the importance of BTS in the world of
Korean music
, we wonder how long this career will last? We hope for a very long time and we will follow it on 
korean.style.shop
Thanks for reading this article with us, if you liked it, feel free to follow us on the Instagram @
korean.style.shop
as well as on this Blog. 
---