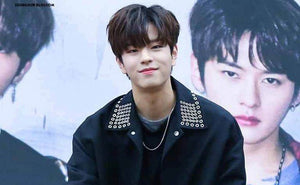 Who is Seungmin [Stray Kids] ?
Want to know everything about Seungmin ? Do you want to learn more about this idol of the group Stray Kids ? How did he get there in the K-pop world?

You've come to the right place, because on Korean Style Shop, we'll answer your questions about this K-pop artist.

Kim Seung-Min (김승민), known as Seungmin, is part of the K-pop group Stray Kids (스트레이 키즈 ). He is a lead singer and dancer of this group. He is an all-round idol, he is also a composer, backing vocalist and lyricist.
In this article, we will discover:


The history of Seungmin
The interests of this singer
Anecdotes about his life
If you want to discover or learn about him, let's start now.
The characteristics of Seungmin
Name: Kim Seung-min (김승민)
Stage name : Seungmin
Date of birth: September 22, 2000
Group: Stray Kids
Interests: Writing in his diary and listening to music
Character: Kind and energetic
The exciting story of Seungmin
When he was younger, he studied at Cheongdam High School. He was close to Lee Daehwi (Wanna One). He then studied in the same high school as Chan who was his senior.

Seungmin's favorite sports are basketball and baseball. He even wanted to become a baseball player when he was younger, then he wanted to become a singer because he likes to be on stage. Moreover, he wanted to show his image to the world as a singer.

He joined JYP in 2017 after winning the 2ᵉ spot at the 13ᵉ open audition of JYPE. He joined the Stray Kids group at the age of 17.

He said in a live broadcast that if he wasn't a Stray Kids singer, he would probably be a photographer or a prosecutor.
Stray Kids' lucky charm and its anecdotes
Seungmin thinks his charm is his left cheek, because it is chubby. Apparently in 2013 while brushing his teeth, a helicopter crashed into his apartment in Gangnam. He likes to listen to Shawn Mendes songs. When he was a trainee, he wrote in his journal every day.
5 things STAY knows about him
He would like to get closer to Jinyoung GOT7.
He speaks English well although he learned English in 3 months.
He still has the jacket he wore at his audition for JYP.
His models are Kim Dong-ryul from DAY6 and Sandeul from B1A4.
He said he has a lot of look-a-likes, like Wonpil from DAY6 and actors Lee Jangwoo and Park Bogum.
3 Covers of Seungmin
A perfect video to appreciate his voice. 

A cover of a song of his models (DAY6) with a member of Stray Kids (Han). 

A last bewitching cover to appreciate the voice of Seungmin.
Seungmin is a young artist
In this article, you have seen that Seungmin has a beautiful voice and you have discovered some anecdotes about her life as a young K-pop idol in the group Stray Kids. We will see how Seungmin's career will progress over the years.

How far will Seungmin go?
---